Make Sure You Like Us on Facebook or Follow Us on Google Plus to Be Updated Every Time We Find Innovative Ways To Create A Sustainable Lifestyle.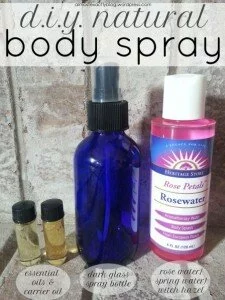 This is one to add to your collection of homemade beauty products and one that we at Selfsufficiencyhome.com are very excited to share with you.
Here is a natural body spray recipe that has an amazing scent. It contains no alcohol and best of all it can be used on your skin and hair!
Find out how to put this concoction together to make a wonderful body spray by visiting almostexactlyblog here…
DIY Natural Body Spray

Share this...